The Mission Darkness™ Exodus EMP Faraday Motorcycle Cover is an extremely large tent style faraday enclosure specifically designed for shielding motorcycles and small vehicles with electric components from a high-altitude electromagnetic pulse (HEMP/EMP), coronal mass ejection (CME), or related occurrences. The high-shielding properties of the cover directs damaging electromagnetic fields away from highly sensitive electrical components (such as those incorporated into vehicles), thus protecting their working structure. It's constructed with two layers of TitanRF™ Faraday Fabric with no exposed stitching (no holes) and 100% continuous planes. The material has been lab tested and certified "compliant" for MIL-STD-188-125, High-Altitude Electromagnetic Protection for Ground Based C41 Facilities. The results ensure that the material surpasses military shielding requirements to handle natural or man-made EMPs (*see testing details below).
* This product is approx. a 4-6 week delivery. We will contact you if any longer. This product does not qualify for free domestic shipping. Contact us for a shipping quote. 
In the case of an HEMP/EMP or CME, everything from electrical infrastructure on a national level to personal electronics could be destroyed, which is why it's imperative to shield irreplaceable and survival electronics, including electric vehicles. The large interior space can accommodate a range of small vehicles, including motorcycles, electric bicycles, scooters, golf carts, ATVs, commercial generators on trailers, electric tools and machinery. The tall height of 7 feet at its top peak allows the user to comfortably stand under the cover as they wheel the vehicle inside.
The cover includes a sturdy heavy weight frame constructed out of 1.5 inch heavy gauge steel and metal corner joints so that the structure is stable and safe. A single piece contoured faraday cover fits snugly over the top and side walls, giving the tent a tight fit around the frame. The top cover drapes over the faraday floor base, creating a fully enclosed faraday chamber, that effectively blocks radio frequency (RF) signals. Once the vehicle is securely stored inside, a weighted object (like 2 inch x 4 inch wood planks) should be placed over the exterior rim to apply pressure to the RF blocking seal. Vehicles can be accessed as needed, simply by removing the planks and lifting up the top cover piece.
We made the Exodus EMP Faraday Motorcycle Cover because all other options on the market were 3-5 times more expensive, not readily available, long lead times, heavy, and impractical for most uses. This faraday tent is easy to install, accommodates a range of vehicles, and successfully blocks RF signals, providing peace of mind knowing that your vehicle is protected.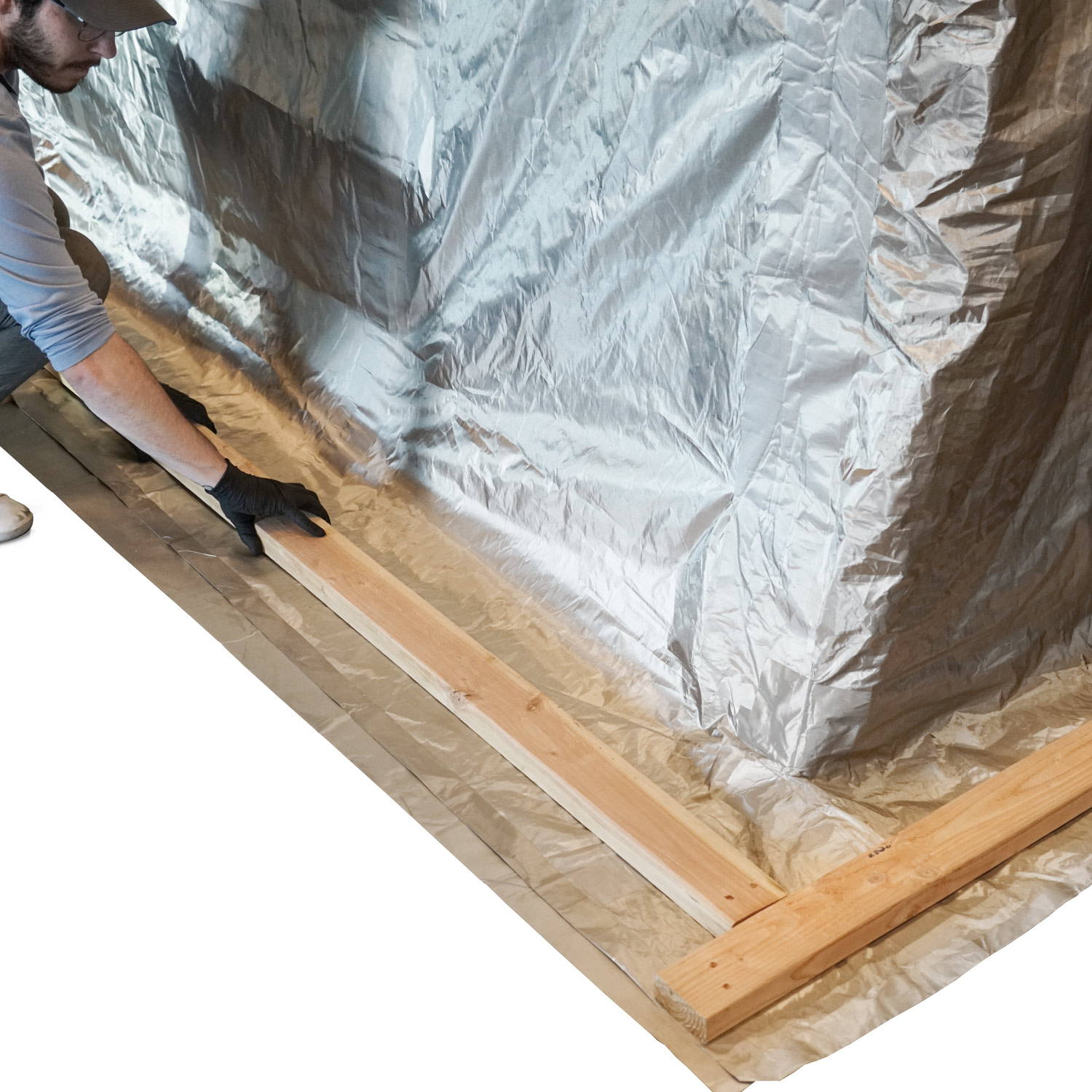 Military-grade faraday enclosure specifically designed for shielding motorcycles, electric bicycles, and small vehicles from HEMPs/EMPs, CMEs, and RF signals
Can also be used for shielding extra-large electronics such as satellites, commercial generators, solar panels, and survival equipment
Constructed with two layers of high-shielding

 TitanRF Faraday fabric

 

on all sides

 

(

TitanRF Faraday Fabric

 is lab tested and certified to shielding effectiveness standards 

MIL STD 188-125

 and 

IEEE 299-2006

)

Blocks WiFi (2.4 & 5GHz), Bluetooth, cell signals including 5G networks, GPS, RFID, and radio signals with 80dB average attenuation
EMI, EMR, and EMF shielding
Seamless construction reduces the risk of ripping from hard pulls (compared to covers made with stitched seams)
Separate top and bottom layers allows user to easily access vehicle as needed
Heavy-duty rubber floor mat protects cover from vehicle wheel abrasion and grime
1.5 inch heavy gauge powder-coated steel frame with metal corner joints provides structural stability and resists chipping, peeling, rust, and corrosion
Includes

 Titan RF Faraday tape

 

and

 Patches

 

to repair any damage.
Protection against damaging effects of a high-altitude electromagnetic pulse (HEMP/EMP), coronal mass ejection (CME), or related occurrences
Signal-proof tent for state, local, federal, and military forensics
Signal isolation for software and hardware testing
Data security and digital privacy
EMI/RFI reduction
Interior dimensions of the "tent" once assembled: 8ft length x 6ft width x 7ft height (at top peak)
Exterior faraday floor base (space required): 10ft length x 8 ft width
If you require a larger vehicle cover, check out the Mission Darkness Exodus EMP Faraday Car Cover, which is custom-made to fit each vehicle's specific dimensions.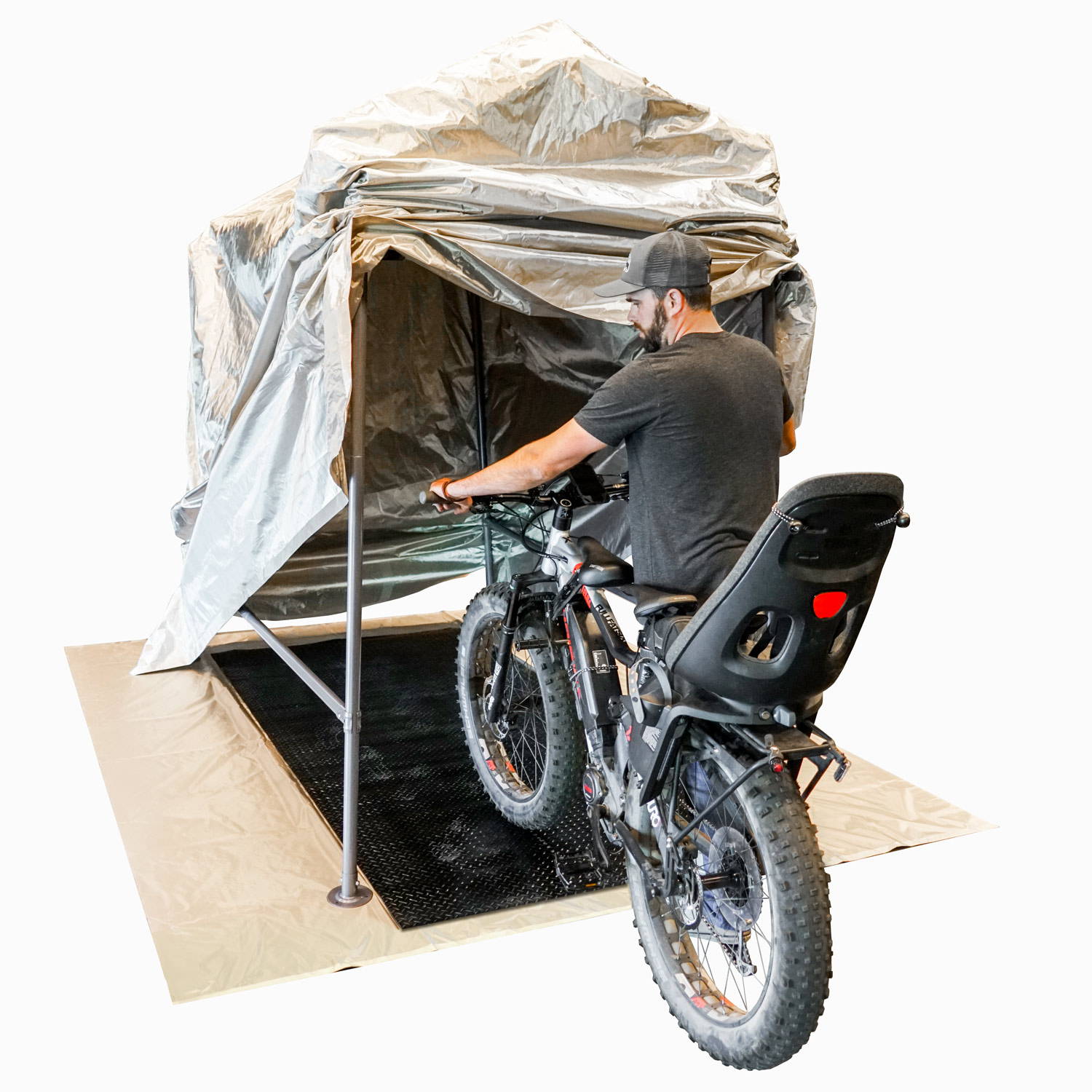 The metal frame height peaks at 7ft tall, allowing the user to comfortably stand inside as they are inserting or removing the vehicle.