MISSION DARKNESS EXODUS EMP FARADAY CAR COVER
$7,10000

$7,100.00
Tax included.
Shipping
calculated at checkout.
---
---
Mission Darkness™ Exodus EMP Faraday Car Cover
The Mission Darkness™ Exodus EMP Faraday Car Cover is an extremely large faraday enclosure specifically designed for shielding vehicles from a high-altitude electromagnetic pulse (HEMP/EMP), coronal mass ejection (CME), or related occurrences. It's the only readily available protection for your vehicle against HEMP within it's price point. The high-shielding properties of the cover directs damaging electromagnetic fields away from highly sensitive electrical components (such as those incorporated into vehicles), thus protecting their working structure. It's constructed with two layers of TitanRF™ Faraday Fabric with no exposed stitching (no holes) and 100% continuous planes. The material has been lab-tested and certified "compliant" for MIL-STD-188-125, High-Altitude Electromagnetic Protection for Ground Based C41 Facilities. The results ensure that the material surpasses military shielding requirements to handle natural or man-made EMPs.
In the case of an HEMP or CME, everything from electrical infrastructure on a national level to personal electronics could be destroyed, which is why it's imperative to shield survival electronics, including vehicles. The huge interior space can accommodate a range of vehicles, including trucks, SUVs, cars, ATVs, motorcycles, and machinery.
The cover is lightweight and small enough to fit in a plastic tub for storage or transport. Each unit is made to order, ensuring that it will fit your vehicle or need. The rubber floor mats are installed according to the width of your vehicle wheels. We made the Exodus EMP Faraday Car Cover because all other options on the market were 3-5 times more expensive, not readily available, long lead times, heavy, and impractical for most uses.
Please Note: 4-6 Week Lead Time we will contact you if any longer.
Military-grade faraday enclosure specifically designed for shielding vehicles from HEMPs/EMPs, CMEs, and RF signals
Can also be used for shielding extra-large electronics such as satellites, commercial generators on trailers, and survival equipment
Custom made to fit each vehicle's unique exterior and wheel width dimensions
Constructed with two layers of high-shielding

 Titan RF faraday fabric

 

(TitanRF Faraday Fabric is lab certified

 

MIL STD 188-125

 

compliant, see details below)
Blocks WiFi (2.4 & 5GHz), Bluetooth, cell signals including 5G networks, GPS, RFID, and radio signals with 80dB average attenuation
EMI, EMR, and EMF shielding
Seamless construction reduces the risk of ripping from hard pulls (compared to covers made with stitched seams)
Multiple handles on the sides to help expand the volume when introducing the vehicle
Two built-in rubber floor mats for vehicle wheels
Portable and lightweight
Includes

 Titan RF faraday tape

 

and

 patches to

 repair any damage
Special precautions should be taken when inserting the vehicle into the Exodus EMP Faraday Car Cover. We do not recommend removing the cover frequently (as one might do with a standard unshielded car cover), to reduce the chance of the delicate material becoming tarnished or ripped. The expectation is that a spare emergency or "doomesday" vehicle will be stored inside indefinitely, opposed to being removed on a regular basis.
Multiple people are required for the initial insertion of the vehicle, in order to properly expand the cover to its full capacity and direct the vehicle over the floor mats.
DO NOT IDLE VEHICLE ENGINE WHILE INSIDE THE COVER! Only allow the vehicle to be turned on for a very short time to slowly and carefully drive it inside the cover. Make sure the opening is expanded to allow ventilation during that brief period.
The cover should always remain indoors in a dry and protected environment, such as a garage.
Multiple Sizes Available - Please Contact us with your dimensions as your cover will be custom made with the correct placement of the rubber mats for your tyers. 
Choose the correct size from the drop-down menu

Multiply your vehicle length x width x height to determine its volume in cubic feet (see measurement images below)
Although each cover is custom made to fit the vehicle's specific dimensions, the S/M/L size distinctions demonstrate the cost based on volume—choose the one that best fits your vehicle to understand your product cost
Contact us if you have questions or require a size not listed
Vehicle volume: 335 cubic feet
Intended to fit ATVs and small vehicles, up to 335ft3
SKU: MDFB-CAR-S
Medium Car Cover — $7,000
Vehicle volume: 600 cubic feet
Intended to fit standard size vehicles such as sedans, up to 600ft3
SKU: MDFB-CAR-M
Vehicle volume: 820 cubic feet
Intended to fit large vehicles such as trucks and SUVs, up to 820ft3
SKU: MDFB-CAR-L
How to Measure Your Vehicle
Multiply the edge-to-edge body length, width, and height of your vehicle to determine the car cover size you need. If your measurement is in between two sizes, you must order the larger size in order to fit your vehicle. For example, if your number comes out to 500 cubic feet, you will need to select the medium size car cover, which fits vehicles up to 600 cubic feet. Once purchased, we will require the dimensions of your vehicle and wheel placement, in order to size the cover and install the rubber floor mats accordingly.
If you're not sure about what size to order or how to measure your vehicle, contact us and we will help with the measurement process at sales@aussecurityproducts.com.au
---
Rubber floor mats are installed according to the specific dimensions of your vehicle wheels.
---
MIL-STD-188-125 Compliant for High-Altitude Electromagnetic Pulse ProtectionOffers EMP Protection
The TitanRF Faraday Fabric underwent rigorous lab testing to certify that it meets military standards MIL-STD-188-125. This compliance measure not only ensures that the product shields against high-altitude electromagnetic pulses (HEMPs) and related occurrences, such as coronal mass ejections (CMEs), electrostatic discharges (ESDs), and solar flares, but also provides concrete proof to the shielding ability and effectiveness of the material. The following image shows the shielding effectiveness results from the double layer test.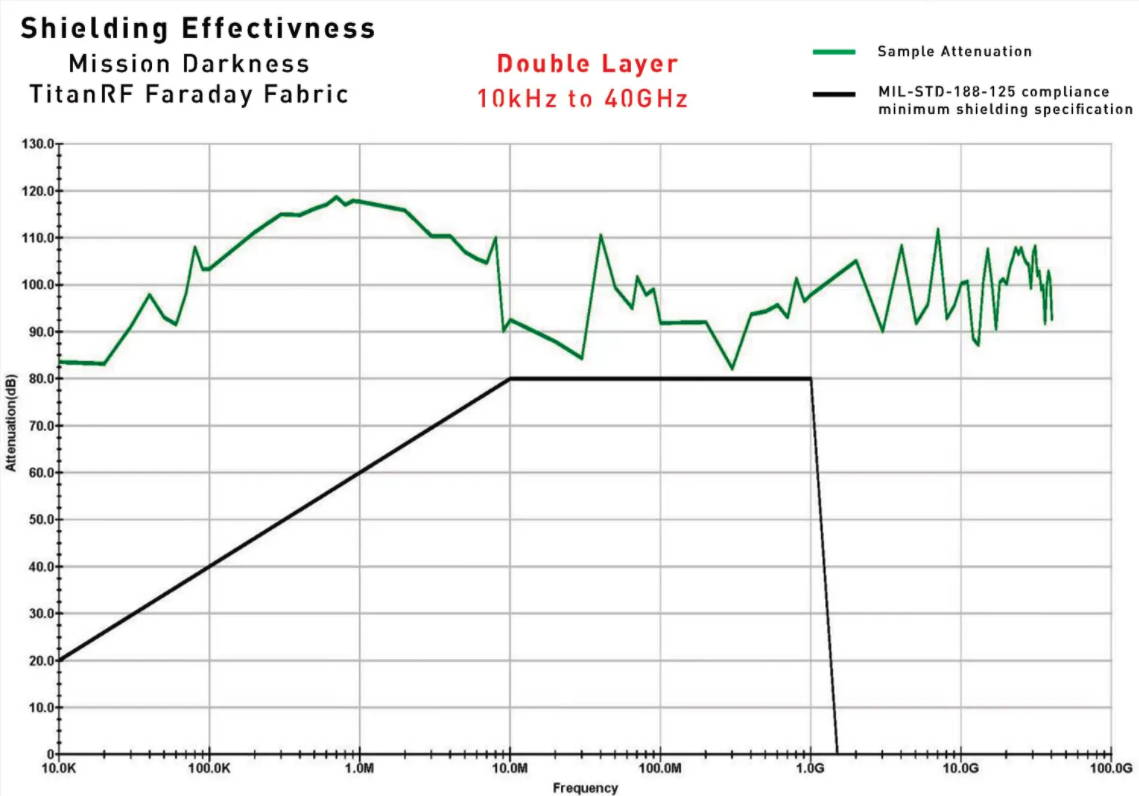 MIL-STD-188-125 testing completed by Keystone Compliance.
---
We Also Recommend