Hidden inside the plush outer layers of this blanket is a unique material called TitanRF Faraday fabric This fabric provides the electromagnetic shielding capability of the blanket, and we have included two layers for maximum protection. The high-shielding material is used by the military worldwide to block signals and is backed by extensive laboratory testing (view testing details below).
EMF shielding is a sharply debated topic. The truth is that the long-term effects of high-frequency signal exposure, from sources such as 5G radiation, are still unknown because the general public has not been exposed to these types of frequencies for long periods of time. This is why so many people are incorporating shielded blankets, curtains, clothing, rooms, etc., into their lives—they would rather be safe than sorry.
We are doing our part to offer shielded solutions for this preventative measure. You cannot always control the electromagnetic frequency signals you come into contact with, but you can use barriers like a shielded blanket to reduce your exposure at home, while traveling, at work, or in any EMF polluted environment.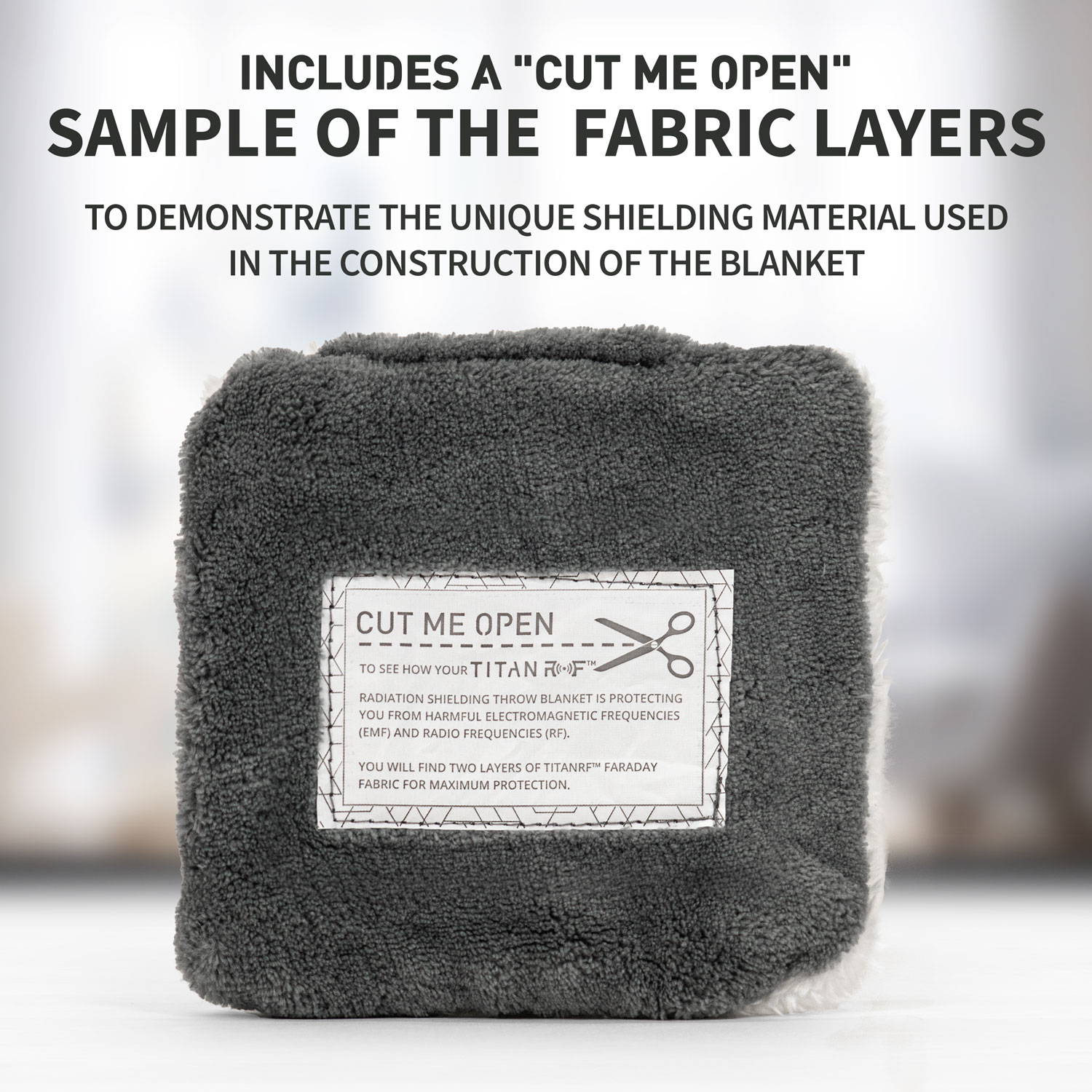 Multi-functional throw blanket combines EMF radiation shielding technology with luxurious comfort
Radiofrequency shielding liner made with TitanRF™ Faraday Fabric blocks signals such as Wi-Fi (2.4 & 5GHz), Bluetooth, cell signals including 5G networks, GPS, and RFID with an average attenuation of 80dB-120dB from 10MHz-40GHz
Instantly shields your body to reduce your exposure to low and high-frequency electromagnetic radiation
Discreet shielding liner cannot be seen from either side
Reversible gray and white sides
Slightly weighted soothing effect when wrapped around the body
Extremely soft 100% polyester exterior is safe for all ages, including pregnant mothers and children, plus dogs too!
Machine washable

SKU: MD-BLANKET-GRAY
Standard Size Throw Blanket — 50" x 60" (127cm x 152cm)

The standard size throw blanket is perfect for lounging on the couch, sofa, or in bed. It is large enough to use as a bedsheet layer, and compact enough to travel with.
EMF Protection Everywhere You Go

Reduce your exposure to harmful EMF radiation and pollution in various environments. The following lists the main applications/uses.
Bedsheet or cover
Sofa and couch throw blanket
Line an infant's crib or child's nursery bed
Cover a dog bed or pet cage
Cover your body in the office or at a work station
Radiation shield for pregnant mothers and children
Lap blanket during travel (plane, train, car, hotel)
General use for reducing exposure to RF/EMF/EMI
Multilayered Shielding System Built With TitanRF™ Faraday Fabric

Double-sided reversible design with EMF radiation protection, wrinkle-resistant materials, and anti-pilling finish.
Hidden EMF shielding middle layer
Warm sherpa
It is important to provide concrete proof into the shielding effectiveness of this blanket. To ensure that the blanket performs extremely well at protecting against EMF, we had the TitanRF™ Faraday Fabric lining inside of the blanket tested and certified by an accredited laboratory. A large faraday cage in a highly controlled environment is used to perform this testing, with commercial grade signal analyzers.
The results show that the double fabric layer (like used to line the blanket) achieves an average attenuation of 80dB-120dB from 10MHz-40GHz. This means it is extremely effective at blocking RF signals and EMF emissions. A summary of our lab testing is shown on the graph below, while the full shielding effectiveness testing report can be viewed at mosequipment.com/pages/compliance-testing.