Mission Darkness TitanRF™ Faraday Fabric offers the next generation of faraday shielding and is certified to military standards MIL STD 188-125, as well as IEEE 299-2006. The lab certifications not only ensures that the fabric shields against high-altitude electromagnetic pulses (HEMPs) and related occurrences, such as coronal mass ejections (CMEs), electrostatic discharges (ESDs), and solar flares, but provides concrete proof of the shielding ability and effectiveness of the fabric.
TitanRF Faraday Fabric uses a copper and nickel composition to achieve an average attenuation of 80dB-120dB from low MHz all the way up to 40GHz. This is the same fabric that is used by military and law enforcement forensics investigators to block all wireless signals, including cell phone, WiFi, Bluetooth, and GPS. It is also used by civilians for EMP protection, personal data and identity protection, signal isolation in secure facilities, RF isolation for hardware and software testing, harmful EMF radiation reduction, anti-credit card skimming, digital privacy, and more.
The fabric can be easily cut, sewn, or taped to surfaces for creating DIY Faraday cages or RF shielding enclosures. The fabric comes with a sample of TitanRF Faraday tape which can be used to tape together layers of TitanRF Faraday Fabric (see specific included items in each fabric kit). Once the faraday enclosure is constructed, you can use our faraday testing apps to confirm your design is properly shielding (see below). Read our TitanRF Faraday fabric FQA for usage tips and answers to commonly asked questions regarding using the material for faraday cages and RF shielded enclosures. *Contact us if you need custom dimensions or a full roll of fabric.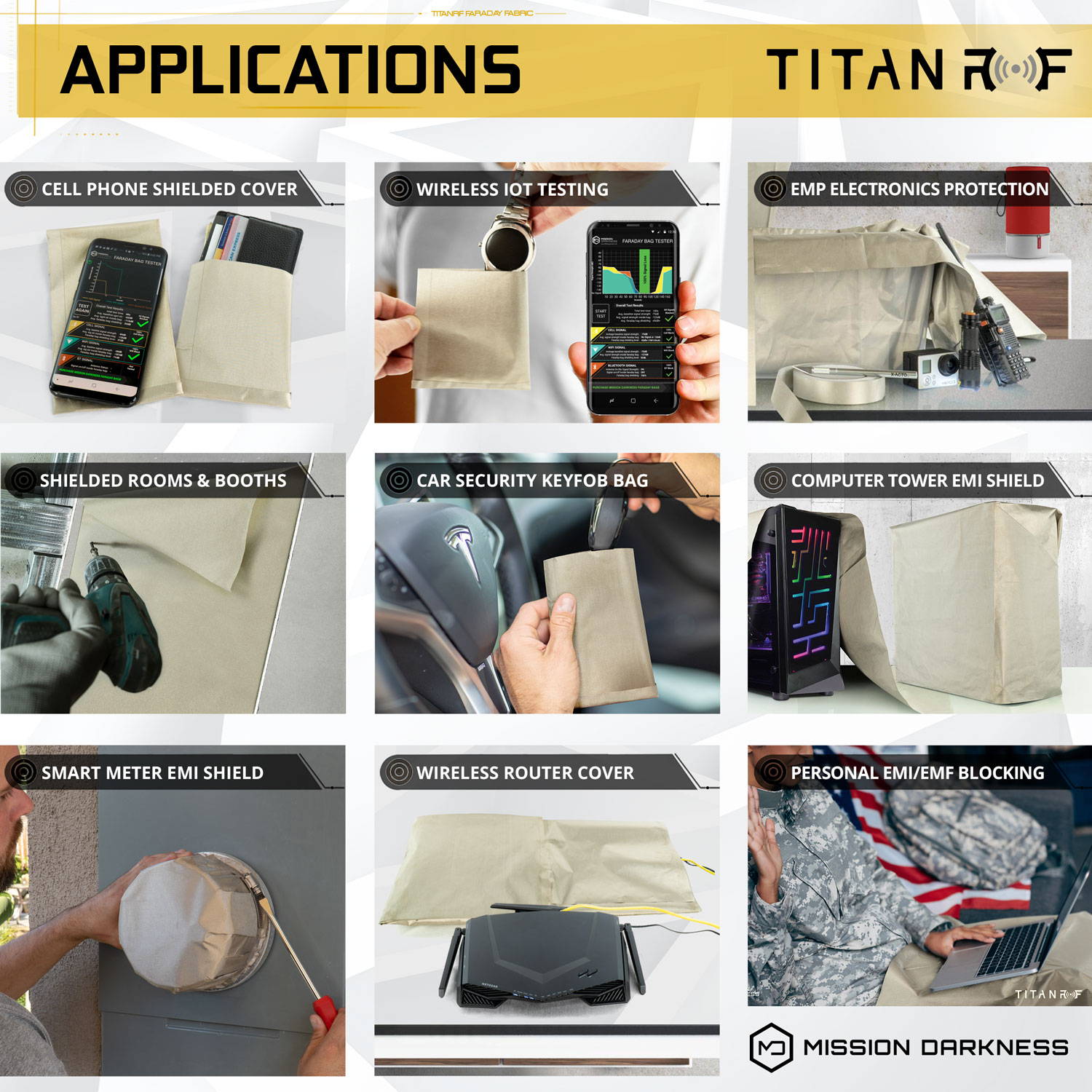 TitanRF Faraday Fabrics, tapes, and other products including these items are made with metals such as copper and nickel. As such, they are conductive and also flammable. Keep these items away from outlets, plugs, cables, and any sources of electricity to reduce the chance of fire. Contact us if you have questions or concerns about your project.
Multiple Size Options Available

Standard Kit (1 Yard) Includes
TitanRF Faraday Fabric measuring 36in long x 44in wide / 11 sq ft / 1.22 sq yards
Packaged folded in a flat bag
36in long x 1in wide sample strip of

 TitanRF Faraday Tape

Usage instructions
Pro Construction Kit XL20 (20 Yards) Includes

TitanRF Faraday Fabric measuring 60ft long x 44in wide / 220 sq ft / 24.44 sq yards
Packaged rolled in a tube and crease-free
20ft long x 1in wide roll of

 TitanRF Faraday Tape

Small (4-pack)

 TitanRF Faraday Patch

Nitrile gloves
High shielding (not mid-grade shielding) material for blocking RF signals such as WiFi, cell signals including 5G networks, GPS, Bluetooth, RFID, NFC,

 and radio signals with 80dB-120dB average attenuation from low MHz all the way up to 40GHz

EMI, EMR, and EMF shielding
Polyester fibre, metallic copper, and metallic nickel composition
Lab-tested and certified

 

MIL STD 188-125

 

(compliant for high altitude EMP resistance), as well as

 

IEEE 299-2006

 

(shielding effectiveness standards)
Surface resistance approximately .5 Ohm/sq
Lightweight and extremely durable
High-grade corrosion and tarnish resistance
Easy to work with - cut, sew and use like standard fabric in your industrial (military, construction company, IOT developer, etc.), or DIY (consumer) project
Multiple fabric length sizes available
Primary applications include shielding electronic devices from RF signals, defense against EMPs, protection against EMF/EMI radiation, construction for signal proof rooms or tents, data security, and enhancing digital privacy

The Mission Darkness app lets you test the shielding effectiveness of your faraday projects. The Android app, called "

MD Faraday Bag Tester

" or iPhone app called, "

Faraday Test

" uses your phone's WiFi, cell, and Bluetooth antennas to measure dB shielding.
To ensure maximum success with RF/EMF signal blocking projects, make sure your expectation is understood and met. For example, EMF reduction is very different from complete signal blockage. Every signal environment is different, and the methods of accomplishing your goals may vary based on the environment and your desired result. For example, to reduce EMF you may simply need to cover a few walls or your device with TitanRF faraday fabric. To completely eliminate WIFI, however, may require the construction of a multi-layered faraday cage with 100% conductive surfaces and ZERO penetrations. These are vastly different projects with different challenges.
With this in mind, with fabric and tape for DIY projects, once opened, cut and assembled we would not be able to accept a return. If you change your mind and the items are unused in the original packaging you are welcome to return the items for a full refund.
The TitanRF faraday fabric will reduce EMF signals (see below MIL – STD testing), however, to completely eliminate exposure a full faraday cage would need to made.  
The TitanRF fabric is tested to military standards by KEYSTONE COMPLIANCE MIL-STD-188-125 https://mosequipment.com/pages/ieee-299-2006-testing